"I tell anyone who asks me about the UConn program that pain management is really in its infancy and still stuck in a biomedical approach. There are very few practitioners who are skillful in working holistically with pain; as clinicians, we owe it to ourselves to acquire a basic education in pain management. By earning the certificate from UConn, you'll differentiate yourself in this growing and critical space." - Dawn Bazarko, DNP, MPH, RN, FAAN, Graduate, December 2019, UConn Pain Management Online Graduate Certificate program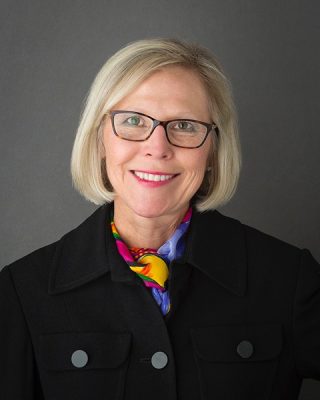 Dawn Bazarko is combining her expertise in mindfulness, experience as
a psychiatric nurse, and her newly acquired skills in pain management
to start her own consulting and teaching practice.
Closing the Knowledge Gap
To say Dawn Bazarko is highly educated is an understatement. Dawn is a Registered Nurse, has a Doctor of Nursing Practice and Master's of Public Health from the University of Minnesota. She also attended an Executive Education Program through The Wharton School at the University of Pennsylvania, and she holds a Certificate in Mindfulness Facilitation from the Semel Institute for Neuroscience and Human Behavior, Mindfulness Awareness Research Center at the University of California, Los Angeles.
From 2000 to 2019, she worked for a large managed care organization, most recently as a Chief Clinical Officer. With her expertise in mindfulness, she was enlisted to teach mindfulness courses to the organization's nursing staff. As she discovered, many of her students suffered stress and burnout, as well as acute and chronic pain. "Nurses care for others at the expense of their own health," she notes. Yet despite her educational credentials and extensive medical expertise, Dawn admits that she had, in her own words, a "big knowledge gap when it came to helping people who experience acute and chronic pain."
At the same time, Dawn says, the opioid crisis was on the rise. She saw that physicians would typically prescribe drugs like methadone, buprenorphine, and naltrexone buprenorphine to help reduce withdrawal symptoms. "All of the solutions were traditional and based on the biomedical model of treatment," she says. "I felt like I needed new tools in my pain management arsenal and I wanted to be part of leading systemic changes designed to meet people where they are at and approach treatment from a biopsychosocial perspective, helping people deal with the underlying physical and emotional aspects of pain using methods other than drugs. There are many other social and psychological issues that persist with every pain condition, and unless they are addressed, quality of life remains impaired."
Google to the rescue!
Dawn became curious about how to fill her knowledge gap and decided to do a Google search to see if there were programs available that could help her gain a better understanding of the underlying causes of pain and how she might use mindfulness and other mind-body therapies in the treatment of pain. Fortunately, one strong contender immediately popped up: The Pain Management Online Graduate Certificate program from the University of Connecticut (UConn).
"I spoke with Donna Campbell, who is the enrollment specialist for UConn's online graduate certificate programs, as well as several of my colleagues," says Dawn. "I felt that the program would fit with my career goals and provide the additional skills I would need to harness the power of taking a biopsychosocial approach to help people suffering with acute and chronic pain. And I have to admit, I am an academic geek. It was a big deal to me that the program was tied to UConn. I saw that the professors teaching the courses had published extensively. I very much respected that."
Dawn started the first course in the fall of 2017, completing the program in December 2019. "It was a technically difficult program. Since I was working full time, I could only take one course a semester. Then I had to skip the spring 2018 semester because my grandmother got sick and later passed away. Fortunately, the program is very flexible. I spoke with my advisor, and he helped me work out my schedule, which I very much appreciated." Dawn also liked the online nature of the certificate program. "The design of the program was thoughtful and the content was very rich. I found the HuskyCT/Blackboard platform easy to use and all of the database resources available through UConn were easy to access."
A real eye-opener
When Dawn started the program, she admits she knew very little about preclinical research models. "I had no idea how new drugs go through testing nor did I know much about the clinical models of research. I remember being so surprised to learn that pain is always an expression of the brain and one can have pain with no tissue damage and tissue damage without pain. That really spoke to me. I wondered, 'How can I help people better manage pain without drugs?' The more I learned, the more I wanted to learn. I was so fascinated."
In fact, the program fired up Dawn's interest in pain management, inspiring her to enroll in the Online Master of Science in Pain Management program at the University of Southern California (USC). "Earning the certificate from UConn definitely helped me get into the program at USC."
Opening the doors to new opportunities
In addition to working on her master's degree, Dawn recently started her own consulting practice (Dawn Bazarko Healthcare Consulting) in January 2020). Earning the certificate from UConn has opened doors to a wide range of opportunities, including the establishment of an online coaching practice in which she works individually with patients who suffer from chronic pain, teaching them how to use mindfulness, enhanced pain literacy, and other problem-solving techniques to augment their care plan.
"Chronic pain can be debilitating; it causes a great deal of stress and contributes to poor sleep—and these relationships are bi-directional. I use mindfulness-based techniques to help patients establish a different relationship with their pain, so that they can begin to appreciate that pain changes all the time; it is not static. As they learn this concept, I can teach them self-regulation skills, for example, to help them lower their stress levels and sleep more restfully." Through her consulting company, she also plans to offer programs to nurses to teach them how to help their patients—and themselves—learn how to manage pain in non-traditional ways. "The credentials from UConn have been super helpful in terms of establishing myself in the field."
Through the entire process of gaining expertise in the field of pain management, Dawn found out quickly that there aren't good systems and procedures in place to deal with pain. "I tell anyone who asks me about the UConn program that pain management is really in its infancy and still stuck in a biomedical approach. There are very few practitioners who are skillful in working holistically with pain; as clinicians, we owe it to ourselves to acquire a basic education in pain management. By earning the certificate from UConn, you'll differentiate yourself in this growing and critical space."